Intro
Individualized Care
If you are looking for quality and attentive eye care, then Coastal Vision Center is here for you. We will take the time to address all of your needs and make sure you get the service you deserve. Our physicians have been serving our community for over 75 years and have decades of experience to help make your life better no matter what your vision needs are. At each step of your visit, we will take the time to hear your concerns and give you a thorough recommendation based on your specific needs. Here at Coastal Vision Center, you are part of our community, and we offer a variety of vision-correction products, whether eyeglasses and frames or contact lenses, to help you gain clear vision and a better quality of life.
Frames and Lenses
A Large Selection of Frames and Lenses
Here at Coastal Vision Center, we understand that the options can be overwhelming and that is why we are here to help you not only find the perfect glasses and lenses that will provide clearer vision, but also make a personal statement! We will make sure that you have the perfect eyeglass lenses and frames for your vision and your fashion sense. Our experienced Opticians and Optical Assistants will assure that the perfect glasses highlight your features, allow you to play with color, and enhance your vision for a variety of functions such as playing sports, fishing, and reading.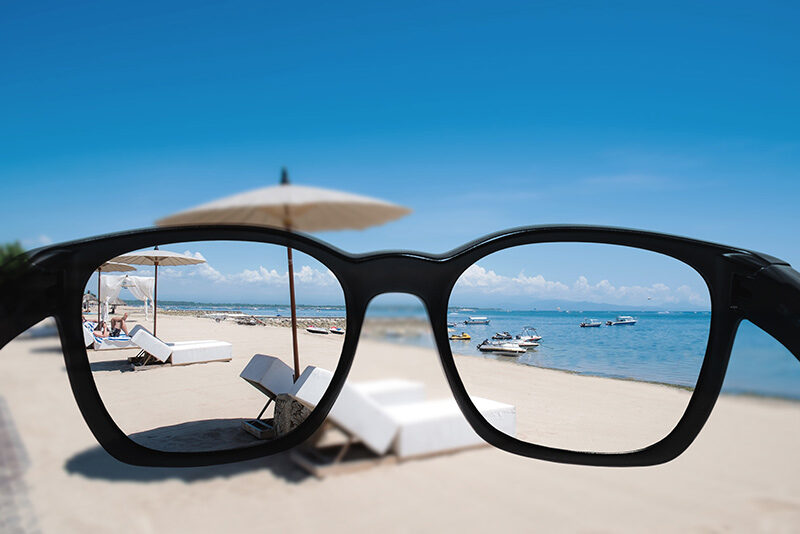 With our wide array of glasses and brands, you are sure to find that perfect pair of glasses to compliment both your style and your lifestyle! From David Beckham, Gucci, Jimmy Choo, Puma, Lacoste, and Nike to Furla, Mattisse, ILLA, Ray Ban, Costa, Maui Jim, Revo and handmade Bespoke eyewear by LAMills, we have you covered! And, the best gift you can give yourself is an amazing pair of sunglasses, either prescription or non-prescription, to protect your eyes from the sun as ultraviolet (UV) radiation can take a toll on the health of your eyes, particularly with the intensity of our Florida sunshine.
We also provide the highest quality lenses to best fit your needs, including high-index plastic, polycarbonate, plastic, and glass lenses. And, if you have ever had any problems with that pesky glare from your prescription glasses, anti-reflective lenses could be a good solution for you as they reduce the reflections to allow more light to pass through to your eye; thus, providing clearer vision.
Contact Lenses
Contact Lenses For All Of Your Needs
If you are thinking about making the switch to contact lenses, we have you covered! Our physicians and staff here at Coastal Vision Center will take the time to make sure you get the best product for your eyes to ensure clear vision with the utmost comfort.
There are several different types of contact lenses that we offer. During your exam, your doctor will determine which of the following lenses would work best for your eyes and for your overall vision needs:
Soft Lenses: These are a popular choice because they are versatile and comfortable. You can get soft contact lenses that you need to replace monthly, weekly, or even daily.
Gas Permeable Lenses: These are an alternative to soft contact lenses and are made from a hard, oxygen-permeable material. A few advantages over soft lenses include an increase in comfort, health, and safety of the eye.
Multifocal Lenses: These are offered in both soft lenses and gas permeable lenses and allow for both near and far vision correction just like a pair of bifocal glasses would.
Color Contact Lenses: These are a fun option that allows you to change your eye color!
Silicone Hydrogels: These are soft lenses that allow for greater oxygen permeability and are a great option if you struggle with dry eyes.
Coastal Vision Center has an experienced staff that will provide our new contact-lens patients a test pair with a lens fitting to show you how to put them in your eyes and make sure you understand the proper steps needed to ensure eye health. At a one-week follow up appointment, our physician will examine the eyes again to assure the lenses are working before contact lenses are then purchased for long-term wear.
If your prescription is still valid and you are in need of replacement contact lenses, just give our office a call at (904) 261-5741 - we will order a new supply over the phone and even call you when your new lenses have arrived! Coastal Vision Center also works with your vision insurance to confirm how many boxes of replacement contact lenses your insurance will cover. For your convenience, we are proud to also offer you the ability to re-order your contact lenses online by visiting the HelloAbby portal powered by ABB Optical Group. Contact our office to find out more!

Contact Coastal Vision Center
Stop in at our Fernandina Beach or Callahan office locations to view our wide array of eyeglasses!